An Old Friend
On my last trip to the UK, I planned to sit down with an old friend to have brunch in East Sussex. It had been a long while since we last connected, and I wanted to make sure I took some time just for him. We chose a wooded spot for a forest brunch so we could appreciate the sights and sounds of the birds and peaceful, natural English surroundings.
The Forbidden Fruit
I arrived early, which is normal for me (Vince Lombardi time). I got everything set up so my friend could just relax, and we could make the most of our time together.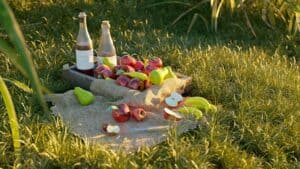 He's busy, often filming and acting, so I knew his time was precious. He usually runs on the slow side, and I expected him to be a little late. I started munching on some of the fruit I had brought along. After all, I had walked all the way out there and set everything up and waited…and waited…and I was getting hungry. 
About forty-five minutes after our arranged time, I could see him ambling up the trail coming from the opposite direction. He looked deflated and lacked some pep in his step on this day for sure, so I decided to try and shine my light and shout a friendly welcome.
"Good morning!" I sounded! "It's so good to see you! I have been looking forward to this since we bought our plane tickets."
He responded, "John, if it is a good morning, which I doubt, I can't see you very well anyway. My eyes are watering from how bright the sun is."
Determined not to be thrown off by his lack of enthusiasm, I embraced him and told him how much I have enjoyed sharing time with him in the past and how excited I was to see him on this special occasion.
As we hugged hello, he looked over my shoulder and saw the half-eaten apple. In a sallow tone, he said, "I'm not much of a friend. Must be why I wasn't worth waiting for to get started." I assured him that wasn't the case. After all, I had taken time away from Loveanne and our strict itinerary just for this brunch. I wanted him to know that he mattered to me.
After convincing him that I had a small snack because I was starving from the time change and hiking all the way to our spot, we finally got started on our food. I wanted to know how he was. What was he up to lately? What had he been filling all his time with? What was new in his world?
Everything is Wrong
That became a tragic line of questioning as he filled me in on all of the negatives, how he had outgrown certain roles and wasn't in very much demand anymore. Other characters from his particular drama had been selected to renew their contracts and continue on, even as they aged, but not him. 
When I asked him how he felt about that, he responded, "It's the end of the road. There's nothing to do. And there's no hope of things getting better. It's ok. It probably doesn't matter anyway."
At that point, I didn't know if there was any hope of salvaging this brunch. I wanted to raise us both up, but he had ended up bringing us both WAY down. 
When I asked more about why the other actors had been given renewed contracts, he said, "It's probably because they're always grateful and happy to be at work. Plus, they are talented and I'm just not that great."
I said, "Aren't you grateful to be working?"
He replied, "I've always known I'm not very special and that the end would come. And just as I expected, here it is."
Enough is Enough
I didn't want to lecture an old friend, but I decided enough was enough. I inched closer to him and put my arm around his thick fuzzy neck while not pinching his long, floppy blue ears. I said, "Eeyore, don't you realize what a special and talented donkey you are? Everyone can relate to you because there is a little bit of your personality inside of us all. We just know when to leave our inner Eeyore on set and not take that attitude with us everywhere we go out in the world."
His big round eyes lit up, and finally, FINALLY, I saw a slight smile start to show on that long face of his.
We finished the rest of our meal talking about the good things, stuff we were grateful for, and the positive change that both of us wanted to see in the future. He realized that a shift to an attitude of gratitude could be his literal game-changer. 
I don't get to see Eeyore as much as I used to, but I could tell he was really down on this occasion. I still knew with all my heart that gratitude was going to come in for the win. 
Leadership Calls
I don't know if you have ever tried to cheer up a donkey who doesn't want cheering up, but I am sure many of you can relate to some degree.
Whether it's a boss with a constantly sour attitude, a coworker who always thinks the end of the world is near, or a manager who just can't see their true worth and talent when it comes to leading the team, most of us know that spending time with people who lack gratitude can drain our energy.
Even if no one around you is grateful, you can be the one who is. I have been that person before; everyone in the environment can't see their way clear of the storm. Everyone is sullen, lost, and fearing the worst. At that point, they need a cheerleader—someone willing to be afraid and still say, "What if this isn't the end? What if there's an opportunity to learn here and to improve?"
Focus on What's Possible
What do we need to do? What's the next step? How do we move forward?
People can get lost in their fear and stuck in deep uncertainty. That is where they find themselves ripe and rotten. As leaders, we want to be green and growing. But you know what you have to be before you can be green and growing? Nothing new. In the dirt…a small seed…but a seed with potential!
Starting from the bottom, recovering after a setback, and turning your boat over to sail again despite being pitched around in a storm, are all circumstances we can be grateful for. We have to dedicate ourselves to learning, growing, and constant self-betterment; we have to commit to being a little bit better today than we were yesterday, and gratitude is the key.
Leadership is something that starts well before you receive any title that declares you a leader. Finding a way to be grateful for difficulty and struggle, and to be extra grateful in times when things come easily, is what it takes to get started in a leadership position.
Gratitude helps us focus on what is positive and achievable, not what is unfortunate and seemingly insurmountable.
When we find ourselves in the company of Eeyore, bless his heart, I try to think about what I am grateful for and why this situation is the perfect opportunity for me to learn what I need to learn in order to move forward. 
Sometimes I keep that to myself, and sometimes I share my thoughts. 
But, you never know when how you view a situation, and when you shift to an attitude of gratitude, will make it possible for Eeyore to open his eyes and see the leadership light.
An Opportunity to Shine
As I walked the path back to town out of the Hundred Acre Wood, I couldn't help but smile and think of how grateful I was for my brunch with Eeyore. On one of my lesser days, I might have tried to avoid him, made up an excuse to go, or gotten resentful. 
But on this day, I knew he had given me an opportunity to rise to the challenge of shifting my perspective and sharing my process with him.
See you at the top.